A Will to Lead inspires new estate gifts to help secure Elon's future
By Jaleh Hagigh, staff
Elon LEADS Campaign chair Chris Martin '78 P'13 announced a special campaign initiative to allow alumni, parents and friends to establish a lasting legacy at Elon by placing the university in their estate plans to fund scholarships and other key institutional priorities.
President Connie Ledoux Book called A Will to Lead a vital part of reaching the $250 million goal of the Elon LEADS Campaign. As of March 5, donors had contributed $206 million toward the goal, including $34 million in estate gifts alone.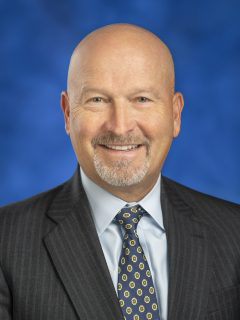 "I am grateful to all the donors who have stepped forward during the Elon LEADS Campaign to place Elon in their wills," Book said. "We are all stewards of Elon's past, present and future, and the impact that our donors make lives on with every generation of Elon students. I can think of no better legacy."
Martin made a $3 million estate gift in 2018 as part of his Elon LEADS commitment. The gift will provide future resources for scholarships and other key institutional priorities.
"I wanted to ensure that my estate provides for both Elon and my son Nicholas '13, which I've done," Martin said. "I made my gift an unrestricted endowment gift because I want it to go where it's needed the most, including to support scholarships. I trust Elon to do the right thing with this gift."
Estate gifts of all sizes are important to Elon's future, Martin said. They also allow donors to make their biggest impact at Elon because they do not have to part with any financial assets during their lifetime.
"I believe we all have a will to lead, and I am asking each member of our community to join me in creating this transformative legacy and prepare the graduates our world needs," he said.
"A Will to Lead provides our community the opportunity to begin the estate planning process or update their current estate plan," said Elizabeth Read, assistant director of planned giving at Elon. "Estate gifts are among the easiest gifts you can make, and we are available to help walk you through the process."
Benefits of Estate Gifts
Placing Elon in your estate offers the following benefits:
A Lasting Legacy: Your impact will be felt for generations to come.
Support Your Priorities: Choose the program or opportunity meaningful to you.
Maximum Flexibility: Provide for yourself and loved ones with no financial impact today.
Peace of Mind: Be confident Elon will honor your philanthropic wishes.
Ease of Giving: Elon staff can walk you through the process, including providing language to share with your attorney or financial advisor when making your estate plans.
Order of the Oak: Your estate gift qualifies you for membership in Elon's planned giving recognition society.
Ways to Give
Estate Beneficiary: Designate Elon as a beneficiary in your will, either as a percentage of your estate or a specific amount.
IRA Beneficiary: Designate Elon as a beneficiary of your retirement account(s).
Residual Bequest: Designate a specific amount or percentage of your estate to Elon after your assets have been distributed to other priorities.
Several members of the Elon community have already stepped forward to support A Will to Lead by making an estate gift or adding to their existing estate commitments.
John '76 and Lesley Hill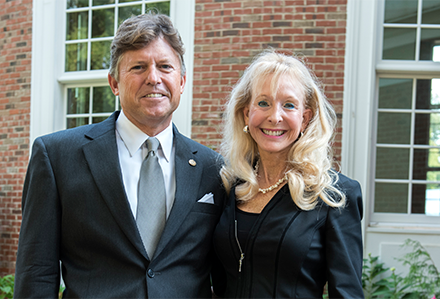 "Estate gifts provide someone with an opportunity to demonstrate how much they care about Elon without requiring them to make a gift now," Hill said. "Elon was an important turning point for me and laid the foundation for the blessings I've been able to enjoy. I'm very thankful for that and feel it's important to give back. Money is well-managed at Elon and as a trustee, I'm able to see that, and that's important."
Hill, who earned his Elon degree in economics and business, plans to continue growing his estate gift, which will support scholarships. He encouraged all alumni to consider supporting what they cherished most about Elon with an estate gift.
"We want to let people know how simple this kind of gift is to make,'' he said. "If you already have an estate, it's easy to add Elon into those plans. Many of us have been blessed and had good careers and have the opportunity to give back."
Hill has served as an Elon trustee since 2013 and is the former president of the Elon Alumni Board. The couple established the John R. Hill '76 and Lesley W. Hill Endowed Fund for Engaged Learning in Business to support research or other on-campus study, international study or business-related internships. They have also generously contributed to scholarships, Richard W. Sankey Hall, The Inn at Elon, Phoenix Club and the Inman Admissions Welcome Center, where the first-floor conference room is named in their honor.
Hill serves as chief executive officer of Pinnacle Advisory Group, a leading privately held wealth management firm. He received Elon's Distinguished Alumnus of the Year award in 2016 in recognition of his dedication to the university and his professional achievements.
"John has been one of the chief architects in the building of a strong alumni network at Elon," said Jim Piatt, vice president for university advancement. "He and Lesley have been devoted stewards of Elon, and we are grateful."
Kevin Tedeschi P'18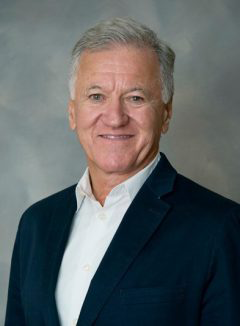 Elon parent Kevin Tedeschi P'18, of Duxbury, Massachusetts, has seen firsthand the benefits of an Elon education, having watched his son, Ralph '18, form close friendships on campus and excel in the Martha and Spencer Love School of Business. He credits his pride in Elon with inspiring his estate gift to fund scholarships.
"My father taught me early on if you have wealth, you should share it. I am fortunate to have wealth, and I need to share it," Tedeschi said. "I believe in Elon and in what I'm doing with this gift. Elon was a great fit for Ralph. It was the right size, and he enjoyed it from day one."
Tedeschi also praised Elon's national leadership in engaged learning and outstanding combination of professional programs with the arts and sciences. He believes those hallmarks of quality are worth supporting.
"Elon is a national institution, and it makes me proud to be associated with it," Tedeschi said. "I like to give to education where they do a good job, and Elon is one of those places."
"Elon is grateful to Kevin for his loyal and generous support of the Elon LEADS Campaign and scholarships in particular," said John Gardner '01, senior director of development. "Elon is a stronger university because of dedicated parents like Kevin."
Learn More
For more information on how you can make Elon part of your estate planning by including the university in your will, please visit elonleads.com or contact Elizabeth Read, assistant director of planned giving, at 336.278.7474 or eread@elon.edu.
About the Elon LEADS Campaign
With a $250 million goal, Elon LEADS is the largest fundraising campaign in the university's history and will support four main funding priorities: scholarships for graduates the world needs, increase access to engaged learning opportunities such as study abroad, research and service learning, support for faculty and staff mentors who matter and Elon's iconic campus. As of March 5, donors had contributed $206 million toward the goal.
Every gift to the university–including annual, endowment, capital, estate and other planned gifts–for any designation counts as a gift to the campaign, which will support students and strengthen Elon for generations to come. To learn more about how you can make an impact, visit www.elonleads.com.