Opening Doors: Late Alamance County educator endows Teaching Fellows Scholarship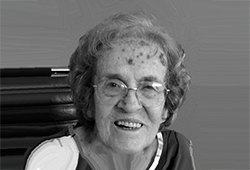 The major estate gift from Carolyn Alspaugh creates a new Teaching Fellows Scholarship, one of the university's primary needs. Carolyn Alspaugh died on July 19, 2016, two months short of her 100th birthday. A resident of the Twin Lakes community in Burlington, she was a native of Winston-Salem and lived for many years in Graham.
"She taught in public schools all her life," says Charles Cox, a family friend. Most of her career was spent at Eastlawn Elementary School in Burlington. She taught third grade.
Cox says it was Carolyn Alspaugh's wish to support higher education locally and selected Elon. The scholarship is named for her husband, who died at age 74.
Elon University students majoring in education will be eligible for the John C. Alspaugh Teaching Fellows Scholarship. Teaching Fellows provides a structured, four-year experience in a cohort environment for aspiring teachers that includes enrichment activities and leadership development opportunities, said Ann Bullock, dean of the School of Education at Elon.
"A gift like this shows a strong commitment of the university, including its friends, to the preparation of teachers and helps sustain the historical legacy of Elon's commitment to preparing outstanding teachers through the Teaching Fellows program, the first Fellows program on Elon's campus under the leadership of President Leo Lambert," Bullock said.
The Teaching Fellows program strives to build future leaders in education and within communities, Bullock said.
"From the first day of their first year on campus, Teaching Fellows participate in activities that support their holistic development as educators who are leaders inside and outside of the classroom," Bullock said.
The Teaching Fellows program includes a number of transformative enrichment experiences, including a semester abroad, two Winter Term courses and participation in undergraduate research. Teaching Fellows also receive supplemental advising, mentoring and professional networking opportunities.
Bullock said the Elon Teaching Fellows Program is a model for the preparation of teaching leaders and scholars who are influential in decision-making on the local, state, national and international levels. The program prepares future teachers to think critically and embrace diversity, lead within and beyond the classroom, and participate meaningfully in a global society.
A graduate of Salem College, Carolyn Alspaugh was a dedicated teacher with a commitment to supporting education. Her career in teaching began when she moved to Burlington with her husband upon completion of his military service. He took a job with Western Electric and Carolyn joined the staff at Eastlawn Elementary School. She was a member of Front Street United Methodist Church for more than 66 years, and was a member of the Ladies Circle.
The "Opening Doors" story series celebrates the power of scholarships to change the lives of Elon students and the generosity of donors who make this transformation possible.