Elon alumni endow music scholarship with generous estate gift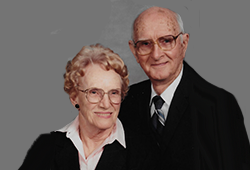 The decision by Mattie Pickett Edwards '39 and John Lee Edwards '41 to endow a scholarship by making Elon the beneficiary of a portion of their estate will help bring talented students to Elon through the power of scholarships.
"My parents loved music and they loved Elon dearly, and I'm so glad they left a legacy at the university with this scholarship," said Priscilla Edwards Hill, of Asheville, N.C. "They felt very strongly about establishing a scholarship focused on music and hoped that as many students as possible would be able to attend Elon and earn this degree."
The John Lee and Mattie Pickett Edwards Music Scholarship, endowed by a $400,000 gift from the estate of the couple, will be a powerful recruiting tool for Elon, according to Jon Metzger, professor of music and chair of the music department.
"This scholarship will be a game-changer for us in terms of being able to compete with other schools for talented students and bring them to our music department," Metzger said. "Each year, we have great students audition for us, and scholarships are very important for us to attract and retain these talented students."
Metzger added that it was especially meaningful that the gift came from alumni who treasured music and wanted to give back to their university.
"This gift speaks to the power of music and how it touches all of us," Metzger said. "We are grateful for this tremendous gift, which will help us for years to come."
An Elon love story
Raised in Burlington, N.C., Mattie Pickett graduated from Elon in 1939 with a secretarial certificate and went right to work as secretary to former Elon President Leon Edgar Smith.
"Mom was very proud of being the secretary to Dr. Smith," Hill said. "She knew she had done well to get that position. Knowing my mom, she was no doubt at the top of her class at Elon and was recommended for the job."
John Edwards grew up flying crop dusting planes on his family's farm in the small town of Stantonsburg, N.C., in Wilson County. He transferred to Elon after attending Louisburg College.
It was in the president's office that John, then an Elon junior, first spotted his future wife.
"My mom was an expert typist," Hill recalled. "My father had a history paper that was due and asked her if she'd type it for him. She did and they started dating. They were together for 62 years."
After graduating with a degree in history, John married Mattie on Nov. 1, 1941, before he shipped out with the Air Force to fight in World War II. A skilled pilot, John flew 22 missions in cargo and transport planes, including harrowing flights over the Aleutian Islands in Alaska, often called the "Forgotten Battle" of the war. Mattie did her part by serving as a Gray Lady volunteer with the Red Cross, assisting wounded soldiers during their hospital stays.
The couple and their daughter crisscrossed the United States and the world during John's 22-year military career. He retired as an Air Force major and the couple eventually settled in Goldsboro, N.C., in the late 1960s. John raised and trained brittany spaniels, winning many ribbons and trophies for his work with the dogs over 42 years. Mattie distinguished herself as an avid gardener.
"My father was impressed by the dogs' hunting abilities and did a lot to develop that breed in the United States," Hill said. "My mother loved to garden, and anything she planted was productive. The joke was that my mother supplied all of Goldsboro with Jerusalem artichokes."
Keeping Elon close to their hearts
Eventually, John and Mattie moved to The Village at Brookwood in Burlington, N.C., close to Elon's campus. They enjoyed attending Homecoming, concerts and other cultural events at their alma mater. Following John's death in 2003, Mattie continued to enjoy her class and sorority reunions at Homecoming.
"Elon was a big part of her life after my father died," Hill said. "If the Village at Brookwood's bus was going to Elon, my mom was on it. She had a wonderful spirit and loved life."
The couple were proud of their decision to place Elon in their estate plans to create a scholarship. Like many donors, Mattie made annual gifts to the university so the scholarship could be awarded immediately and she could see the impact of their gift. She continued to make annual gifts to Elon until her death in December 2016 at age 98.
"Education was very important to my parents, and they understood the importance of scholarships in making an Elon education possible for others," Hill said. "I'm happy they were passionate enough about this to set it up in their will and to make sure that Elon received this gift. They would be pleased."
Jaleh Hagigh, Staff