Gifts from Elon Alumna Support Scholarships, Elon Academy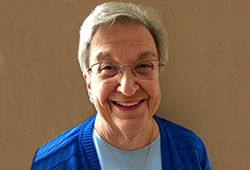 For the past 50 years, Nancy Turner Watson '66 has kept Elon close to her heart. Even though her long and successful career in education took her across the country, Elon was never far from her thoughts.

"I love everything about Elon," Watson said. "There was never a class I had where I couldn't go into a faculty member's office if I had a question."

Over the years, Watson has become one of Elon's most loyal and generous benefactors. During the past year alone, she has made several cash gifts and two estate gifts to help fund some of the university's top priorities. Her gifts have supported the Nancy Turner Watson '66 and Dr. James Watson Jr. '65 Endowed Scholarship, which Watson established in 2010 in memory of her husband. She has also made gifts to support the Elon Academy college access and success program and the university's Center for Access and Success. The Center includes the Elon Academy and three additional programs that collectively serve academically promising students from pre-kindergarten through college.

"I think the Elon Academy is the neatest thing on God's green earth," Watson said. "Elon's doing what every college and university in the country ought to be doing. They are reaching out to serve the community by serving students who will be good college students and better citizens for tomorrow. I think that's phenomenal."

Jim Piatt, vice president for university advancement, thanked Watson for her consistent support of scholarships, the Elon Academy and the Center for Access and Success, initiatives that are transforming lives in Alamance County and beyond.

"Through inspired philanthropy, alumni like Nancy Watson are helping to elevate Elon's commitment to educational excellence in our community by placing the lives of young people on a path to success," Piatt said.
Making an impact through estate gifts

A former elementary school teacher of 43 years, Nancy Watson recognizes the importance of scholarships in helping young men and women earn a college degree. And she believes in programs like the Elon Academy, which has inspired dozens of talented Alamance County high school students with financial need or no family history of college attendance to pursue undergraduate degrees. This year marks the 10th anniversary of the Elon Academy program.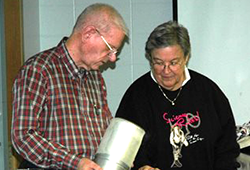 The late Jim Watson '65 and Nancy Watson '66 at the Burris School.
"Helping students in need earn a college degree is so important," Watson said. "Where kids grow up has nothing to do with how bright they are. They don't always know there is another life out there for them unless you give them a chance to see it. The Elon Academy does that."
Like many donors, Watson has made her largest gift to Elon by including the university in her estate as part of her financial planning. The future proceeds from those planned gifts will provide valuable financial support for her scholarship and programs in the Center for Access and Success.
"When I'm gone, I want to make sure that what's left in my estate goes where it is going to make a difference, including at Elon," Watson said. "My will clearly states where my money will go, and I feel so much happier now that I have done that."
Keeping Elon close through the years

Nancy Watson and her late husband, Jim Watson, were married in 1966 and together pursued careers in teaching. Jim taught physics at the college level, while Nancy taught in public schools during their stops in North Carolina, South Carolina and Arkansas. Along the way, Jim earned a master's degree and doctorate in physics, while Nancy earned her master's in education.

In 1976, the couple settled in Muncie, Ind., and found a home at Ball State University. Nancy taught middle school at the Burris Laboratory School, a K-12 public school that is part of Ball State and provides students in the university's Teachers College with valuable opportunities to teach and learn. She served in that role for 30 years before retiring as an associate professor of elementary education at Ball State. Jim was a professor of physics at Ball State for 30 years and was equally devoted to the Burris School, where he created physics courses for elementary education majors.

Nancy Watson credits Elon with helping prepare both of them to be effective educators. Making Elon one of her philanthropic priorities is her way of giving thanks.

"I support Elon because I am so impressed with everything they are doing," Watson said. "I think anything you can do to help someone else is important."
Elon's Center for Access and Success

Elon's Center for Access and Success includes four transformative programs designed to help students from a variety of backgrounds gain access to and achieve success in higher education. The following programs serve students beginning in pre-K through college:
"It Takes a Village" project, which offers literacy instruction and enrichment for pre-kindergarten through middle school students, as well as GED/ESL support for their families.
The Elon Academy, a multi-phase program that encourages academically talented Alamance County high school students to pursue a college degree and serve their communities.
Collegiate Start @Elon, which offers high school seniors from Alamance County the opportunity to simultaneously enroll in both high school and college courses and receive dual high school and college credit.
The Odyssey Scholars Program, a selective program consisting of talented individuals who are academically strong, civically engaged and action-oriented leaders in their communities who will benefit from an Elon education and demonstrate financial need.