Supporting the Best of an Elon Education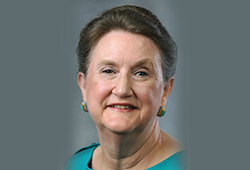 In nearly three decades at Elon, Nancy Midgette has seen engaged learning set Elon graduates apart.

"Our students leave Elon not only with the knowledge of their discipline but with a confidence that has been inspired by the Elon Experiences and by excellent teaching that encourages students to think for themselves and be creative," says Nancy, professor of history. "I want to make sure this kind of education is there for future students."

Nancy has placed Elon in her estate plan. Her gift will support need-based scholarships and faculty research.

"I want to enable students with modest means to be able to reap the benefits of an Elon education," Nancy explains. "I also want to make sure they have excited and engaged faculty to teach them."

Nancy believes strongly in Elon's teacher-scholar model and knows that excellent teaching and faculty research go hand in hand.

"You can't have excited teaching without having enthusiastic faculty," she says. "It's so exciting to be able to share with students work that you've recently done as part of your scholarship. Students can tell when we're enthusiastic about what we're doing, and they thrive on that."

Nancy is grateful for the many opportunities that Elon has given her, including working with students in the study abroad, leadership and honors programs. She says it feels good to give back to such a special place.

"I've seen what's happened at Elon over the years and it amazes me," Nancy says. "We've continued to provide the resources so faculty-student engagement is at the center of what we do. I want to make sure that synergy continues well into the future."