Elon alumnus to endow scholarship with estate gift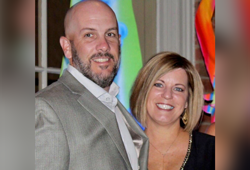 An Elon family is starting a long-term commitment to the university by helping students through an estate gift, which in the future will endow a Global Engagement Scholarship.
Alumnus Lee C. Leckie '98 and Angie Leckie of Charlotte, North Carolina, are enthusiastic Elon donors. They consistently support scholarships and the Phoenix Club and are members of the 1889 Society, which recognizes loyal annual giving donors.
Recently, they decided to include Elon in their estate to endow the Lee C. Leckie '98 and Angie Leckie Global Engagement Scholarship in order to make a long-term impact on students and create a lasting legacy at Elon. The generous planned gift supports the Elon LEADS comprehensive fund-raising campaign. Scholarships are the top priority of the historic $250 million campaign.
"Although we have supported Elon annually for many years, we knew we wanted to make a more substantial commitment. We felt that an estate gift would ensure support of Elon students after we're gone. That would be the biggest impact we could make financially," Lee Leckie says.
"A planned gift made us feel that we could make a larger commitment today and add to it over the years," Angie Leckie says. "It was like a starting point for us to make a long-term commitment to the university."
Global Engagement Scholarships assist students who are pursuing engagement experiences through the university's study abroad or Study USA programs. Support for student scholarships and to increase access to engaged learning programs like global study are key priorities of Elon LEADS.
Lee is a senior vice president with Bank of America. He began working there shortly after graduating from Elon. Angie is a certified public accountant and controller with the Dilworth Center in Charlotte. They have two children.
Originally from Statesville, North Carolina, Lee graduated from Elon with a degree in political science and a minor in economics. He was a member of Lambda Chi fraternity and Pi Sigma Alpha honor fraternity. He was the recipient of an Honors scholarship and is especially drawn to helping students who might not otherwise be able to attend Elon.
"Elon is very important to me. Not only is it where I got my degree it was my one-stop shop. I found an internship through Elon, as well as my first and only job. I'm still with the same bank after 21 years. Elon shaped and molded me and helped me get to where I am," he says. "And it's where I made many of my lifelong friends."
When the Leckies' daughter, Morgan, began looking at universities to attend, it inspired the couple to make a gift to Elon.
Lee says his parents made tremendous sacrifices to ensure he could attend college and graduate without debt. Study abroad was not financially feasible.
"Elon was our first choice for Morgan. We know how special Elon is. It renewed our interest in what Lee got out of Elon," Angie says. "One thing he was never able to do was a study abroad program so that's why we decided to create a Global Engagement Scholarship."
That's not uncommon, says Woody Pelton, dean of global education at Elon. He is grateful for the Leckies' generosity. Demand is high and scholarship assistance from Elon donors makes the university's priority of 100 percent access to global experiences more attainable.
"Over the past five years, Elon has awarded need-based global engagement scholarships to over 1,200 students, closing the need gap on this important Elon experience," Pelton says.
About The Elon LEADS Campaign
Global Engagement Scholarships are one of the main funding priorities of the Elon LEADS Campaign. With a $250 million goal, Elon LEADS is the largest fundraising campaign in the university's history and will support four main funding priorities: scholarships for graduates the world needs, access to engaged-learning opportunities such as study abroad, support for faculty and staff mentors who matter and Elon's iconic campus. To date, donors have contributed $173 million toward the overall goal.
Every gift to the university-including annual, endowment, and estate and other planned gifts-counts as a gift to the campaign, which will support students and strengthen Elon for generations to come. To learn more about how you can make an impact, visit www.elonleads.com.