A commitment to pay it forward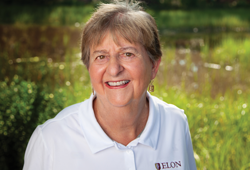 When Carol Brown '68 graduated from Elon, she was offered a job with one of the largest and most prestigious business technology companies in the world, IBM. She turned it down. Brown had a different plan for how she wanted to connect her Elon mathematics degree to something else she learned during her time on campus-serving the public good. "I wanted to give back. I wanted to become a teacher," she says.
Now retired and living on the South Carolina coast following a 30-year teaching career, Brown is still giving back to her alma mater. Recently, she made an estate gift and an annual gift to support student scholarships as part of the Elon LEADS Campaign.
Brown took advantage of Elon's blended gift program, which allows donors to make a long-term impact through an estate gift and an immediate impact with an annual gift. She is using her annual IRA withdrawal to create a five-year annual gift commitment to support scholarships. Helping to bring great students to Elon is a priority for Brown, a first-generation college student herself. "I like to give to scholarships. It's so important," she says. "There are so many kids who want to go to Elon but can't afford to go and get that experience. I wanted to make a commitment and give another student a chance."
Using an IRA charitable rollover as part of her blended gift is ideal for Brown because it allows her to see the impact of her philanthropy now and continue helping Elon in the future. She's proud to support a place that had such a profound impact on her life.
"Elon teaches you to give back, to pay it forward, so every year I make a donation," she says. "When you walk around campus, the students speak to you. That's the culture at Elon. It was that way when I was there. Elon has changed physically, but the culture of it has not."
BENEFITS OF BLENDED GIFTS
Blended gifts allow donors to make a powerful impact at Elon now and in the future, while providing financial security and potential tax or income benefits. Find out how you can make an impact at Elon through blended giving by going to elonlegacy.org or contacting Carolyn DeFrancesco, senior director of planned giving, at defrancesco@elon.edu or 336-278-7454.