For the love of his mother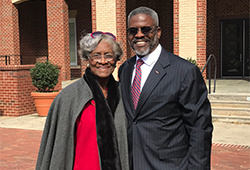 By Madison Taylor
Ike Credle '83 remembers the late summer day when he arrived at Elon for his first year. Making the trip with him from James City, a community outside New Bern, North Carolina, were his mother, two brothers and grandmother - all in his grandmother's car. "When we got there, I was the first to arrive at my dorm," Credle recalls. "I took my little bags and my mother looked at me. I could look in her eyes and see the expectations of my making it, her trust and confidence in me. When they left, it was my first time on my own."
It wouldn't be the last time Rebecca Credle visited Elon with her son. Today, at age 81, she still joins him sometimes when he comes back to campus for events, including Homecoming. Credle, a retired Army major who works for the U.S. Department of Defense, wanted to honor the sacrifices his mother made so he and his four brothers could earn college degrees. He made a planned gift to endow the Rebecca A. Credle Scholarship for Study Abroad to ensure that his mother's legacy will endure at Elon. Credle made the gift by designating Elon as the beneficiary of a life insurance policy. Future proceeds from this gift will fund the scholarship, enabling students with financial need to participate in one of Elon's nationally recognized, high-impact engaged learning programs.
"This scholarship will be something that continues well after she's gone and I'm gone," Credle says. "The name Rebecca Credle will be known and recognized for years by her children, her grandchildren and her great-grandchildren. Her name will be part of Elon."
A single mother raising five boys in a mobile home in eastern North Carolina, Rebecca Credle emphasized education by being a voracious reader and lifelong learner. After her sons graduated from college, she delighted in traveling wherever they lived at the time and immersing herself in the culture of her surroundings. Her journeys included international destinations when her sons were in the military. Credle selected global study to honor her interest in travel. "She loves the campus," Credle says. "She's part of the Elon family and really appreciates the idea of having a legacy like this."
Credle often refers to the famous quote about service by the late Rev. Dr. Martin Luther King Jr.: "Everybody can be great ... because anybody can serve. You don't have to have a college degree to serve. You don't have to make your subject and verb agree to serve. You only need a heart full of grace. A soul generated by love." It played an important role in making his gift to Elon and honoring his mother. "I'm not a millionaire, but as Dr. King said, I can be a servant," Credle says. "Everybody can be great because everybody can be a servant. It's important for me to leave a legacy and help somebody like me, someone who came from a lower-income family that had the opportunity to come to this great university, but may not have the means financially to do the things other students have the opportunity to do."
Did you know? Your planned gift, including estate gifts and gifts of life insurance policies, counts as part of the Elon LEADS Campaign and creates a long-term source of support for Elon's future. Learn how you can make a difference through an estate gift by contacting Elizabeth Read, assistant director of planned giving, at 336-278-7474 or eread@elon.edu.